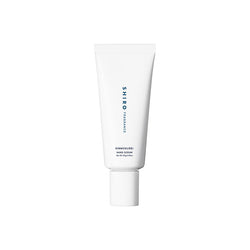 KINMOKUSEI HAND SERUM (BOXLESS)
This smoothing Hand Serum contains jojoba oil*1, gagome kombu*2, and shea butter*3 to replenish moisture. Its watery light texture blends well into the skin while moisturizing the hands for a smoother touch. It is a lifesaver for dryness and roughness caused by house chores and excessive hand washing. We have changed the product to a tube-type container, allowing it to be used to its fullest, ensuring every drop of the product is utilized.
A nostalgic scent of "Kinmokusei"(Osmanthus) with a sweet and gentle scent reminiscent of fruits.
*1 Jojoba seed oil / moisturizing ingredient *2 Gagome extract / moisturizing ingredient *3 Shea butter / moisturizing ingredient
Starting from October 2023, the product's container has been changed from a bottle to a tube type. To view the product with the previous container, please click [
here
].

TOP: Osmanthus, Bergamot
MIDDLE: Osmanthus
BASE: Woody Notes, Musk
Size: 55g
This product does not come in a box.
Apply an appropriate amount on dry areas of your hands and fingers.
WATER,BUTYLENEGLYCOL,
GLYCERIN,SIMMONDSIACHINENSIS(JOJOBA)
SEEDOIL,FRAGRANCE,OCTYLDODECYL
MYRISTATE,HYDROGENATEDCASTOROIL
ISOSTEARATE,BUTYROSPERMUMPARKII
(SHEA)BUTTER,DIETHYLPENTANEDIOL
DINEOPENTANOATE,1,2-HEXANEDIOL,
HYDROXYETHYLACRYLATE/SODIUM
ACRYLOYLDIMETHYLTAURATECOPOLYMER,
PHENOXYETHANOL,CARBOMER,SQUALANE,
ARGININE,HYDROGENATEDLECITHIN,
POLYSORBATE60,TOCOPHEROL,XANTHANGUM,
SORBITANISOSTEARATE,KJELLMANIELLA
CRASSIFOLIAEXTRACT,METHYLPARABEN,
BENZYLALCOHOL,BENZYLBENZOATE,
CITRONELLOL,LIMONENE,LINALOOL.
・What is the difference between the bottle type and the tube type of this product?
→ To ensure that you can use every last drop of the Hand Serum, we've transitioned from the traditional bottle container to a tube type starting Thursday, 12 October 2023. There are no changes in the ingredients or texture of the Hand Serum. For more information, click [
here
].
・If I want to send this to someone who lives abroad, will there be any issues?
→ This will depend on the shipping system of the mailing company. Please check with your postal distributor.