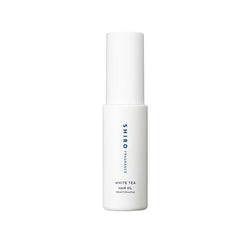 WHITE TEA HAIR OIL (BOXLESS)
Contains Crambe Abyssinica Seed Oil*1 to give moisture and luster to the hair that tends to be dry and has split ends, giving it a softer feel.
With its smooth and light texture, not only can be used as a hair care product before bed, but it is also useful for fixing the hair on the go.

Calming "White Tea" with a deep tea scent in a refreshing citrus tone.

*1 Moisturizing ingredient

Some fragrances in White Tea have been changed since June 2023.
TOP: Grapefruit, Lemon, Greens
MIDDLE: Green tea, Jasmine, Rose, Lily
BASE: Musk, Woods, Amber


Size: 30mL
This product does not come in a box.

<Frequently Asked Questions>
・Is the fragrance significantly different from that before the renewal?
→The new White Tea is not significantly different from the previous version, as the composition of the existing fragrance has been retained. The balance of the fragrance has been changed so that the bergamot in the top note is stronger, and the lemon remaining in the middle to last notes is replaced by a deeper tea that leaves a stronger impression, resulting in a more profound fragrance. Yuzu distilled water has also been added to increase the moisturizing effect.

・Can the products be shipped overseas?
→Please contact the shipping company for more information.

・Can it be distinguished from the product before the reformulation?
→ The product with a 1cm bar line near the product barcode will be the product after the renewal.

How to distinguish products after the renewal.

Take an appropriate amount in the palm of your hand, apply it on towel dried hair and then use your hair dryer.
Can also be applied on dry hair.
Ingredients
INGREDIENTS:DIMETHICONE,HYDRO GENATED FARNESENE,ETHYL ISO STEARATE,DIMETHICONOL,FRAGRANCE,SIMMONDSIA CHINENSIS (JOJOBA)SEED OIL,CRAMBE ABYSSINICA SEED OIL,MEADOWFOAM DELTA-LACTONE,TOCOPHEROL,BENZYL BENZOATE,CITRAL,CITRONELLOL,LIMONENE,GERANIOL,HEXYL CINNAMAL,LINALOOL.