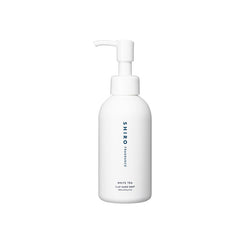 WHITE TEA CLAY HAND SOAP (BOXLESS)
Our exfoliating hand soap is made with volcanic ash clay that removes excess oils and dirt. Its grainy texture scrubs off dead skin and feels comfortable on the hands as you lather.
Contains moisturising aloe*2, giving you a smooth wash that leaves you feeling moisturised.

Calming "White Tea" with a deep tea scent in a refreshing citrus tone.

*1 Volcanic ash / scrub ingredients *2 Aloe vera juice / moisturising ingredients (The aloe vera leaf extract has been changed to aloe vera juice to adjust the way it feels.)

Some fragrances in White Tea have been changed since June 2023.

・The hand soap contains a scrub, but can people with sensitive skin use it?
→ The fine scrubbing ingredients contained in Clay Hand Soap are volcanic ash (clay) from Kyushu, Japan, which thoroughly removes dirt and excess sebum from your hands even when gently washed. If your hands are dry and sensitive due to alcohol disinfection, etc., or if your hands are prone to rough skin, we recommend using Hand Serum for moisturizing care after washing your hands. If you have any concerns, please consult a dermatologist before use.

・The liquid may not come out even when the pump is pressed.
→ There may be clay accumulation under the container, making it difficult for the liquid to come out. In that case, shake the container well and move the sediment collected at the bottom before use.

TOP: Grapefruit, Lemon, Greens
MIDDLE: Green tea, Jasmine, Rose, Lily
BASE: Musk, Woods, Amber


Size: 145mL
This product does not come in a box.
<Frequently Asked Questions>
・Is the fragrance significantly different from that before the renewal?
→The new White Tea is not significantly different from the previous version, as the composition of the existing fragrance has been retained. The balance of the fragrance has been changed so that the bergamot in the top note is stronger, and the lemon remaining in the middle to last notes is replaced by a deeper tea that leaves a stronger impression, resulting in a more profound fragrance. Yuzu distilled water has also been added to increase the moisturizing effect.
・Can the products be shipped overseas?
→Please contact the shipping company for more information.
・Can it be distinguished from the product before the reformulation?
→ The product with a 1cm bar line near the product barcode will be the product after the renewal.
How to distinguish products after the renewal.
At the beginning of use, remove the stopper and pump several times until the contents come out.
Take an appropriate amount and lather.
Ingredients
WATER,SODIUM LAURETH SULFATE,ACRYLATES COPOLYMER,FRAGRANCE,PALM KERNELAMIDOPROPYL BETAINE,PEG-20 SORBITAN COCOATE,ALOE BARBADENSIS LEAF JUICE,VOLCANIC ASH,GLYCOSYL TREHALOSE,SODIUM HYDROXIDE,CITRIC ACID,DIHYDROXYPROPYL ARGININE HCl,HYDROGENATED STARCH HYDROLYSATE,SODIUM CHLORIDE,SACCHARIDE ISOMERATE,SODIUM SULFATE,TRISODIUM EDTA,PHOSPHORIC ACID,SODIUM CITRATE,PHENOXYETHANOL,MAGNESIUM NITRATE,MAGNESIUM CHLORIDE,METHYLCHLOROISO THIAZOLINONE,METHYLISOTHIAZOLINONE,BENZYL BENZOATE,CITRONELLOL,LIMONENE,GERANIOL,HEXYL CINNAMAL,LINALOOL.