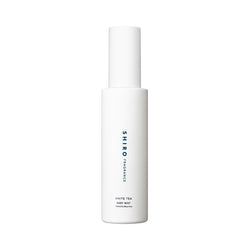 WHITE TEA BODY MIST (BOXLESS)
This body mist wraps the entire body in a veil of moisture.
Containing birch*1 moisturising ingredients, you will experience moistening and hydration with every spray.
It has a gentle fragrance that accompanies a variety of lifestyles,
It is a great daily care item for yourself or as a gift for your loved ones.

Calming "White Tea" with a deep tea scent in a refreshing citrus tone.

*1 Sap of birch sap/moisturizing

Some fragrances in White Tea have been changed since June 2023.

POINT
・Layer with a clean fragrance such as Savon for a more refreshing scent.

<Recommended>
・When you want to refresh yourself, such as during a break or after exercise.
・It is also suitable for use in places where strong fragrances are avoided, such as schools and workplaces.
・It is also an easy item to use for people who do not use perfume or who want to enjoy a gentle fragrance at home.
・The fragrance can be layered with different scents of body mist or your favourite perfume.
・A great gift for your loved ones.
TOP: Grapefruit, Lemon, Greens
MIDDLE: Green tea, Jasmine, Rose, Lily
BASE: Musk, Woods, Amber


Size: 100mL
This product does not come in a box.

<FREQUENTLY ASKED QUESTIONS>
・Is the fragrance significantly different from that before the renewal?
→The new White Tea is not significantly different from the previous version, as the composition of the existing fragrance has been retained. The balance of the fragrance has been changed so that the bergamot in the top note is stronger, and the lemon remaining in the middle to last notes is replaced by a deeper tea that leaves a stronger impression, resulting in a more profound fragrance. Yuzu distilled water has also been added to increase the moisturizing effect.

・Can the products be shipped overseas?
→Please contact the shipping company for more information.

・Can it be distinguished from the product before the reformulation?
→ The product with a 1cm bar line near the product barcode will be the product after the renewal.

How to distinguish products after the renewal.

Spray an appropriate amount over the entire body at a distance of 20 cm from the skin.
Use on neck and wrists where the fragrance tends to spread and on areas where dryness is a concern.
Ingredients
WATER,ALCOHOL,BETULA PLATYPHYLLA JAPONICA JUICE,FRAGRANCE,PEG-40 HYDROGENATED CASTOR OIL,SODIUM LACTATE,GLYCERIN,LACTIC ACID,SACCHAROMYCES/PERSIMMON FRUIT JUICE FERMENT EXTRACT,BENZYL BENZOATE,CITRAL,CITRONELLOL,LIMONENE,GERANIOL,HEXYL CINNAMAL,LINALOOL.