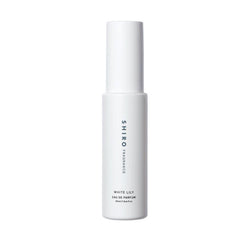 WHITE LILY EAU DE PARFUM 22 (BOXLESS)
This perfume features some gorgeous and delicate notes such as lily and magnolia.

Easy to use for people of all ages in any season. Enjoy the variations of strengths of this scent depending on where you apply it, such as the neck, wrists, or your arms.

A sophisticated "White Lily" scent wrapped in elegant florals.

In accordance to the new IFRA regulations*1, we have reformulated WHITE LILY EAU DE PARFUM *2.

TOP: Bergamot, Blackcurrant, Green
MIDDLE: Lily, Jasmine, Rose, Magnolia
BASE: Amber, Sandalwood, Musk

<Duration of fragrance> About 5-6 hours

POINT
・If you want a strong scent, use it on your wrists, neck behind your ears or anywhere that has a pulse.
・When you wish to enjoy the scent at your own leisure at home - we recommend using it on your ankles, inner thighs, and around your waist.

Size: 40mL

This product does not come in a box.

*1 The International Fragrance Association
*2 The target ingredient is "Lilial". The possibility of being an allergen was reported, and the usage limit of ingredient has been changed. However, SHIRO has never received any case reports of health damage caused by these ingredients in SHIRO products.

INGREDIENTS
ALCOHOL,FRAGRANCE, WATER,ALPHA-ISOMETHYL IONONE, BENZYL BENZOATE,BENZYL SALICYLATE, CITRONELLOL,LIMONENE,EUGENOL, GERANIOL,HEXYL CINNAMAL,HYDROXY CITRONELLAL,LINALOOL.