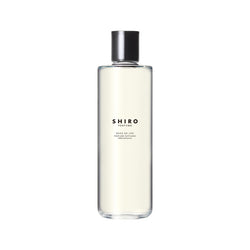 SPICE OF LIFE PERFUME DIFFUSER LIQUID WITH 10 STICKS (BOXLESS)
A liquid refill for our room diffuser from the SHIRO PERFUME collection.
It disperses a rich fragrance throughout your space, creating a soothing atmosphere.
Refill the glass vase (sold separately) and enjoy the SPICE OF LIFE fragrance, which is both reassuring and supple.
TOP: Ginger, Black Pepper, Bergamot
MIDDLE: Rose, Cardamom, Cinnamon
BASE: Incense, Woody
*This product comes with 10 diffuser sticks.
*Length of Diffuser Stick: 46cm/18inch
*Please refill the bottle on a flat and secure surface to prevent any accidental tipping.
*Avoid spills when pouring, as the liquid may stain floors or furniture.
Size: 500mL
This product does not come in a box.
1. Pour the product into the glass vase (container) of the perfume diffuser.
2. Insert the diffuser sticks.
3. Allow the scent to disperse.
Tips:
・One bottle of this product lasts approximately 5 months.
・Refill the bottle on a flat, secure surface to avoid tipping over.
・We recommend using a rug or a similar item to prevent staining.
<CAUTION> Avoid using near open flames.
ALCOHOL,FRAGRANCE,DIPROPYLENE GLYCOL,DENATONIUM BENZOATE,CITRONELLOL,LIMONENE,GERANIOL,LINALOOL.