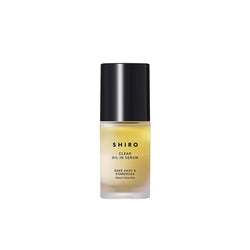 SAKE KASU & KOMENUKA OIL IN SERUM (BOXLESS)
This luxurious oil-in serum is consisting of two layers of sake kasu and komenuka extract and rice bran oil.
In order to pack the full power of the ingredients, unnecessary ingredients have been eliminated for a rich and comfortable feel.
It contains rich nutrients such as amino acids and ceramide, which help prevent skin damage caused by dryness and UV rays, and the more you use it, the more it leads to a clear skin with a well-defined texture*1.
 "Sake Kasu & Komenuka Series" Special Site >
<The number of times to use>
Use 3 to 6 drops daily, morning and evening, for approximately one and a half months.
Contents: 30mL
*This product does not come in a box.
*1 Clear skin with moisture
HOW TO USE
Shake vertically until the two layers of oil and extract blend cloudy before use.
If your skin is dry, we recommend using 3 drops before lotion as a booster.
SKINCARE STEPS
Three steps that comfortably blend into the skin, deliver moisture to the keratinized layer, and lead to clear skin*5 that feels as if it has been absorbed by the skin.
Wrapped in a deep, gentle fragrance, it replenishes the skin with the power of rice.
It penetrates quickly into the skin and quickly approaches dry skin.
The more you use it, the clearer your skin will become.
1. Take a coin-size amount of Sake Kasu & Komenuka Lotion and apply evenly to face. Let the deep, sweet, gentle fragrance soothe you.
2. Apply 2-4 pumps of Sake Kasu & Komenuka Serum and hand press firmly.
3. Take 3-6 drops of Sake Kasu & Komenuka Oil-in Serum and massage gently into your hands to lock in moisture. 
INGREDIENTS
WATER,ORYZA SATIVA(RICE) BRAN OIL , BUTYLENE GLYCOL , RICE FERMENT (SAKE) LEES,ORYZA SATIVA(RICE) BRAN,1,2-HEXANEDIOL,METHYLPARABEN.