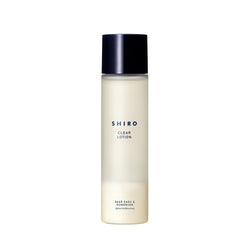 SAKE KASU & KOMENUKA LOTION(BOXLESS)
SHIRO's best-selling "Sake Kasu Lotion" has been renewed with an increased power.
By adding komenuka (rice bran)*1, we have succeeded in doubling the ratio of ingredient-derived extracts*2.
The combination of the penetrating power*3 of sake kasu*4 and the moisturizing power of komenuka*1 allows the lotion to quickly approach dry skin.
The sake kasu (sake lees)*4 and komenuka (rice bran)*1 extracts are carefully extracted by hand at our own factory.
The pleasant texture and gentle fragrance, achieved by the delicate pressing process, will make your skincare time special.

 "Sake Kasu & Komenuka Series" Special Site >

<The number of times to use>
A coin-size amount used daily, morning and evening, will last for about one and a half months.

Contents: 120mL
*This product does not come in a box.

*1 Komenuka (rice bran) / Moisturizing *2 Including extraction solvents *3 Up to the stratum corneum *4 Sake kasu (ake lees) / Moisturizing

HOW TO USE
Sake kasu and kome nuka ingredients is normally precipitated, so please shake vertically and mix well before use.

SKINCARE STEPS
Three steps that comfortably blend into the skin, deliver moisture to the keratinized layer, and lead to clear skin*5 that feels as if it has been absorbed by the skin.

Wrapped in a deep, gentle fragrance, it replenishes the skin with the power of rice.
It penetrates quickly into the skin and quickly approaches dry skin.
The more you use it, the clearer your skin will become.
1. Take a coin-size amount of Sake Kasu & Komenuka Lotion and apply evenly to face. Let the deep, sweet, gentle fragrance soothe you.
2. Apply 2-4 pumps of Sake Kasu & Komenuka Serum and hand press firmly.
3. Take 3-6 drops of Sake Kasu & Komenuka Oil-in Serum and massage gently into your hands to lock in moisture. 
INGREDIENTS
WATER,BUTYLENE GLYCOL,RICE FERMENT (SAKE) LEES,ORYZA SATIVA (RICE) BRAN,1,2-HEXANEDIOL,METHYL PARABEN.