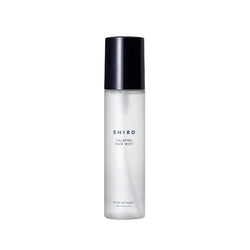 ROSE BOUQUET FACE MIST (BOXLESS)
Made with distilled Bulgarian rose water*1 and a blend of flower-based essential oils, this mist moisturizes and prevents skin irritation for healthy, radiant skin.
Using this as a lotion or a booster morning and night skincare, as well as using it during the daytime to lessen the damage caused by dryness or UV rays.

Spritz on skin and enjoy the scent of damask rose, palm rose, lavender and eucalyptus oils. Generously sized, this face mist is perfect for moisturization throughout the day. Also, you can use it as a booster for face, body, scalp, and hair.

*1 Rosa Damascena Flower Water / moisturizing ingredient

Size: 120mL/4.1us fl oz
This product does not come in a box.

Spray to the skin from a 20cm distance. Use the palm of your hands to blend in well.
※You can use after applying makeup.
※Utilizing everyday for 5 sprays each at day and night, this will last you approximately 2 and a half months.
ROSA DAMASCENA FLOWER WATER,PROPANEDIOL, PEG-60 HYDROGENATED CASTOR OIL,METHYLPARABEN, CYMBOPOGON MARTINI OIL,PELARGONIUM GRAVEOLENS OIL, LAVANDULA HYBRIDAOIL, CINNAMOMUM CAMPHORA (CAMPHOR) BARK OIL,SODIUM CITRATE, JUNIPERUS VIRGINIANA OIL, CEDRUSATLANTICA BARK OIL,EUCALYPTUS CITRIODORA OIL,FRAGRANCE, ROSA DAMASCENAFLOWER OIL, CITRONELLOL,GERANIOL, LINALOOL.
・How is the "FACE MIST" and "OIL IN WATER" different?
→ The "OIL IN WATER" contains oil as its moisturizing ingredient.
We recommend the "OIL IN WATER" for those who want to use oil within their skincare, or those who like a dewy moisture.
We recommend the "FACE MIST" to those who have oily skin.
・Can I use this as a lotion?
→ Yes. This product can be used as a lotion, the final step of your skincare before makeup application, as well as on all over your body including scalp and hair.