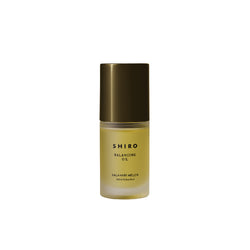 OIL COLLECTION KALAHARI MELON OIL
BALANCING FACE OIL: KALAHARI MELON OIL leads to a fresh and clear skin.

KALAHARI MELON OIL has a water retaining effect. It is excellent for taking care of the firmness and elasticity of the skin, such as to care for damaged or dry skin caused by UV rays. It penetrates quickly into the stratum corneum and keeps skin soft without clogging pores. It can also be used as a hair care oil for damaged hair due to UV rays and dryness.

Fragrance: Smoky Kalahari melon, refreshing yuzu, and slightly sweet woody scent.

Size: 30mL

You can use this any time in your daily skincare routine. Please use it when desired.
・First step of skincare: Applying after a face wash will make the skin soft and boost the result of your skincare routine.
・Mix with a serum: By mixing with a serum, it will permeate better. A watery texture serum is recommended.
・As an oil face mask: This oil face mask is best to do whilst you are in the bathtub, in the steam. By spreading oil all over the face, you can enjoy a luxurious oil face mask.
KEY INGREDIENTS
KALAHARI MELON from South Africa
Kalahari melon is said to grow in one of the driest locations in the world, in the Kalahari Desert in South Africa. The oil extracted from the seeds include a lot of linoleic acid. It has been traditionally used as a moisturizer to protect the skin from UV rays.
Way of extraction: Extracting by compression of Kalahari melon seeds.
INGREDIENTS
CITRULLUSLANATUS(WATERMELON)SEEDOIL,CITRUSJUNOSPEELOIL,CINNAMOMUMCAMPHORA(CAMPHOR)BARKOIL,BOSWELLIACARTERIIOIL,SALVIASCLAREA(CLARY)OIL,LAVANDULAANGUSTIFOLIA(LAVENDER)OIL,CITRUSAURANTIFOLIA(LIME)OIL,CITRAL,LIMONENE,GERANIOL,LINALOOL.
RECOMMENDED USAGE
A pre-cleansing with this oil is recommended as a special skincare at night.
Before cleansing your face, put enough oil on your palms and softly, without strong friction, massage any area of your face, for instance around your nose. You can use this when you have or don't have makeup on.
When the oil blends into the skin, warm your face with a hot towel for 5 minutes. After that, continue with your regular skincare by cleansing your face or use a face wash. This use will make your skin smoother and more resilient.