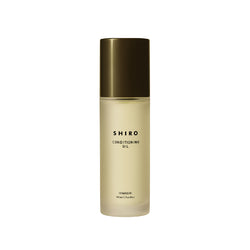 OIL COLLECTION HIMASHI OIL
CONDITIONING BODY OIL: Viscous and moisturizing HIMASHI (Castor) OIL.

It can also be used as a countermeasure against aging signs on the skin, such as areas that are prone to dryness.
In addition to applying HIMASHI OIL and massaging it to warm the body, warm compresses are also well known.

Fragrance: Mellowness of geranium, orange and the scent of fresh celery.

Size: 50mL

Utilizing it as a moisturizer for dry areas of the face and body, as well as a massage oil is highly recommended.
Recommended areas of use: Around the stomach, legs, upper arms.
KEY INGREDIENTS
HIMASHI from India
Castor oil, himashi oil in Japanese, contains a lot of ricinoleic acid.
This has been used since the Greek era for a way to keep beauty and health, and it was also treasured in Japan.
Way of extraction: Extracting by squeezing from the seeds of castor beans.
INGREDIENTS
RICINUSCOMMUNIS(CASTOR)SEEDOIL,LIMONENE,APIUMGRAVEOLENS(CELERY)SEEDOIL,PIPERNIGRUM(PEPPER)FRUITOIL,FOENICULUMVULGARE(FENNEL)OIL,PELARGONIUMGRAVEOLENSOIL,CITRUSAURANTIUMDULCIS(ORANGE)PEELOIL,MENTHAPIPERITA(PEPPERMINT)OIL,CITRAL,CITRONELLOL,
RECOMMENDED USAGE
For those whose stomach is easily affected by fatigue or concerned about poor circulation, we recommend an abdominal massage using castor oil.
Apply the oil around your abdomen and place your palms on your navel.
Slowly rotate your hands clockwise while breathing in a natural rhythm, 5 to 10 times, until your belly is comfortably warm.
Massaging warms the body and refreshes the mind.