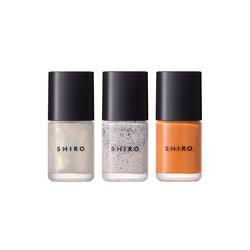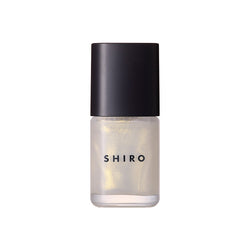 FLAXSEED NAIL (BOXLESS)
The base of this collection is formulated with flaxseed oil*1, which helps keeping your nails healthy. The collection is designed for those who enjoy nail arrangements and want to experiment with design, color and texture.
The wide, round brush ensures beautiful and even coloring, and the quick-drying texture allows you to express yourself freely by using a single color, layering different shades to create nuance, or using it as an accent.

Contents:10mL
*This product does not come in a box.

*1 Flaxseed oil / Moisturizer
1. Apply a thin coat of flaxseed nail base coat.
2.Once the base coat has dried, apply a thin coat of the first coat of color. If one coat is enough, add a topcoat after it dries. You can apply a second coat of the same or a different color for a different look.
Key Ingredients

• Flax (from Hokkaido Tokachi):
Flaxseed oil is known for its unique nutrients, easily absorbed by the skin. It helps protect and condition skin that is suffering from problems.

• Shea butter (from Ghana, Africa):
Our unrefined shea butter (shea fat) is directly imported from Ghana, Africa. It is not chemically refined, allowing for the natural ingredients and fragrance of shea nuts to remain. This highly moisturizing butter is rich in the bounty of nature and can be used all over the body.
Ingredients
[3D01]BUTYL ACETATE,ETHYLACETATE,ISOPROPYL ALCOHOL,NITROCELLULOSE,ACETYL TRIBUTYL CITRATE,SUCROSE ACETATE ISOBUTYRATE,SUCROSE BENZOATE,SILICADIMETHYLSILYLATE,MICA,SILICA,SIMETHICONE,ISOAMYL ACETATE,LINUM USITATISSIMUM(LINSEED) SEED OIL,STEARALKONIUMHECTORITE,ACRYLATES COPOLYMER,PERFLUOROOCTYL TRIETHOXYSILANE,ALUMINUM HYDROXIDE,TITANIUM DIOXIDE,IRON OXIDES.
[3D03]BUTYL ACETATE,ETHYL ACETATE,POLYETHYLENE TEREPHTHALATE,NITROCELLULOSE,ISOPROPYL ALCOHOL,ACETYLTRIBUTYL CITRATE,SUCROSE ACETATE ISOBUTYRATE,SUCROSE BENZOATE,STEARALKONIUMHECTORITE,SILICA DIMETHYL SILYLATE,POLYURETHANE-11,ACRYLATES COPOLYMER,POLYETHYLENE TEREPHTHALATE,PERFLUOROOCTYL TRIETHOXYSILANE,SIMETHICONE,DI-C12-15ALKETH-2 PHOSPHATE,ALUMINUM HYDROXIDE,ISOAMYL ACETATE,CITRIC ACID,LINUMUSITATISSIMUM (LINSEED) SEED OIL,BUTYROSPERMUM PARKII (SHEA) BUTTER,TITANIUMDIOXIDE,IRON OXIDES,BLACK 2,MANGANESEVIOLET,ALUMINUM POWDER.
[3D07]BUTYL ACETATE,ETHYLACETATE,NITROCELLULOSE,ISOPROPYLALCOHOL,ACETYL TRIBUTYL CITRATE,SUCROSEACETATE ISOBUTYRATE,SUCROSEBENZOATE,STEARALKONIUM HECTORITE,BUTYLMETHOXYDIBENZOYLMETHANE,ETHYLHEXYLMETHOXYCINNAMATE,ACRYLATESCOPOLYMER,SIMETHICONE,DI-C12-15 ALKETH-2PHOSPHATE,ISOAMYL ACETATE,CITRICACID,PERFLUOROOCTYLTRIETHOXYSILANE,ALUMINUM HYDROXIDE,LINUM USITATISSIMUM(LINSEED) SEED OIL,BUTYROSPERMUM PARKII(SHEA) BUTTER,YELLOW 5 LAKE,TITANIUMDIOXIDE,IRON OXIDES,RED 30,RED 6.
3D01 TOP COAT YELLOW
A top coat with gold and green polarised pearls that gives your existing colors a warm nuance just by layering.
3D03 STONE
Stone created with inspiration from Oya stone, which is used in some SHIRO store designs.
3D07 CLEAR ORANGE
Vitamin orange with one coat for a sheer color and two coats for a vivid color.