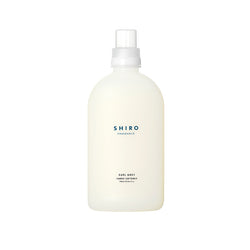 EARL GREY FABRIC SOFTENER (BOXLESS)
Plant-derived softening ingredients make clothes fluffy and maintain water absorbency. By smoothing the surface of the fabric, static electricity is less likely to occur, and dust and pollen are less likely to adhere to the clothes. Enjoy a richer fragrance by using it together with the laundry detergent.
The scent of "Earl Grey" is inspired by the rich fragrance that spreads when you take a sip of the tea.

TOP: Bergamot
MIDDLE: Tea, Rose
BASE: Musk, Amber
Size: 500mL
This product does not come in a box.
<FREQUENTLY ASKED QUESTIONS>
・Can the laundry liquid and fabric softener be used in drum-type washing machines?
→ Laundry liquid and fabric softener can also be used in drum-type washing machines. You can basically use it for automatic feeding, but if you leave it for a long time, it may separate or form lumps. Also, the scent will change depending on the amount you put in, so please adjust as you wish.
Shake this product well and add 40L of water or 25mL (1.5 capfuls) per 3-4kg of laundry when rinsing.
[Use] For cotton, wool, and synthetic fibres
Ingredients
5-15% CATIONIC SURFACTANTS, <5% NON-IONIC SURFACTANTS,METHYL
CHLOROISOTHIAZOLINONE,METHYLISO
THIAZOLINONE,FRAGRANCE,CITRONELLOL,
LIMONENE,GERANIOL,HEXYL CINNAMAL,
LINALOOL.