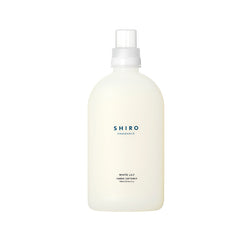 WHITE LILY FABRIC SOFTENER 22 (BOXLESS)
Our fabric softener faintly scents your clothes and freshens your room to enjoy all day.

Plant-derived softening ingredients make clothes fluffy and maintain water absorbency.
By smoothing the surface of the fabric, static electricity is less likely to occur, and dust and pollen are less likely to adhere to the clothes.

※The color of the liquid is whiter than the regular type, but there is no problem with the quality.

Enjoy a richer fragrance by using it together with the laundry detergent.

A sophisticated "White Lily" scent wrapped in elegant florals.

Some fragrances have changed from April 2023. Click here for renewed scents.

<Estimated number of uses>
One bottle can be used for about 20 times.
TOP: Bergamot, Blackcurrant, Green
MIDDLE: Lily, Jasmine, Rose, Magnolia
BASE: Amber, Sandalwood, Musk


Size: 500mL
This product does not come in a box.
INGREDIENTS
5-15% CATIONIC SURFACTANTS,<5% NON-IONIC SURFACTANTS,METHYL CHLOROISOTHIAZOLINONE,METHYLISO THIAZOLINONE,FRAGRANCE,ALPHA-ISOMETHYL IONONE,BENZYL BENZOATE,BENZYL SALICYLATE, CITRONELLOL,LIMONENE,HEXYL CINNAMAL, HYDROXYCITRONELLAL.