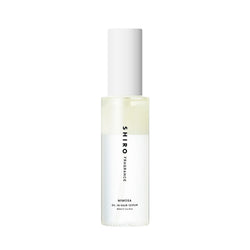 SHIRO MIMOSA OIL IN HAIR SERUM (BOXLESS)
KOMBU * 1 moisturizes, and camellia oil * 2 and marula oil * 3 give glossy hair.
It can be used for morning styling and evening out bath care.
Since it cares for hair with plant ingredients, it can be used without worrying about touching the skin.
Please enjoy the gentle and refreshing scent that scents from your hair softly.
* 1 KOMBU extract / moisturizing * 2 camellia seed oil / moisturizing * 3 marula oil / moisturizing


Shake firmly so that the two layers are mixed, then spray an appropriate amount on the hair and let it blend in.
This item can be used for morning styling, for wet hair after bathing, and for pre-sleep care.
TOP: Grapefruit, Lemon, Bergamot, Green, Basil
MIDDLE: Jasmine, Green Tea, Rose, Lavender, Rosemary
BASE: Musk, Amber, Sandalwood, Woody notes



Size: 80ml/2.7us fl oz
This product does not come in a box.