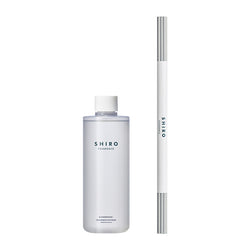 KINMOKUSEI FRAGRANCE DIFFUSER LIQUID (BOXLESS)
"SHIRO Room Fragrance" has been renewed to the specifications which can be used for a longer period.

The name of "Room Fragrance" has been changed to "Fragrance Diffuser", and the liquid refill, sticks, and the container are sold separately.

A nostalgic scent of "Kinmokusei"(Osmanthus) with a sweet and gentle scent reminiscent of fruit.

The containers are made from 100% waste plastic.

The scent spreads a beautiful aroma even in larger rooms such as living rooms and bedrooms.

The entire scent could be used for about 3 months if using the dedicated Fragrance Diffuser Glass Vase.
*10 fragrance diffuser sticks are included.

※We have decided to temporarily suspend the sales of the "Fragrance Diffuser Glass Vase", the dedicated container for Diffuser Liquid since we have found that some of the products leaks when used. We will prepare a replacement product as soon as possible.
※Containers for Room Fragrance before renewal can also be used with this product.
TOP: Osmanthus, Bergamot
MIDDLE: Osmanthus
BASE: Woody Notes, Musk
Size: 300mL
This product does not come in a box.
Pour this product into the fragrance diffuser glass vase (container), insert the sticks and spread them.
*Please note that there is a chance of an overflow if you pour the entire liquid all at once.
*One bottle of this product can be used for about 3 months.
* Please refill in a flat and safe place so that the bottle does not fall over.
*If the liquid adheres to the floor or furniture, stains may remain, so be careful not to spill when pouring, and use a rug to prevent stains.
* When pouring the liquid into the glass vase, please pour an appropriate amount so that the liquid does not touch the lid to prevent dripping. Also, when changing the installation location, etc., please be aware that the container body may shake, and the liquid inside may adhere to the lid and cause dripping.
[Precautions for use]
※Fire Strict Prohibition
Ingredients
ALCOHOL,FRAGRANCE,
DIPROPYLENE GLYCOL,BENZYL BENZOATE,
CITRONELLOL,LIMONENE,LINALOOL.