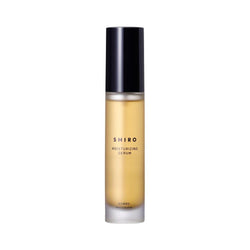 KOMBU SKIN SERUM (BOXLESS)
Our bestselling skin serum. Formulated with gagome kombu, an ingredient found exclusively off the coast of Hakodate, Hokkaido, in Japan. By soaking gagome kombu in water, its thick and rich compounds are extracted to create a concentrated serum. The kombu's high water-retaining properties protects the skin against dehydration to keep skin firm and supple.

Size: 60mL
This product does not come in a box.
Shake well before each use as the natural kombu ingredients may partially separate over time. Once shaken, apply 2 pumps of serum onto clean skin. Gently massage onto face and any dry skin areas.
WATER, BUTYLENE GLYCOL,
KJELLMANIELLA CRASSIFOLIA EXTRACT,
1 , 2 - HEXANEDIOL, METHYLPARABEN.